More AFA Guests to be announced!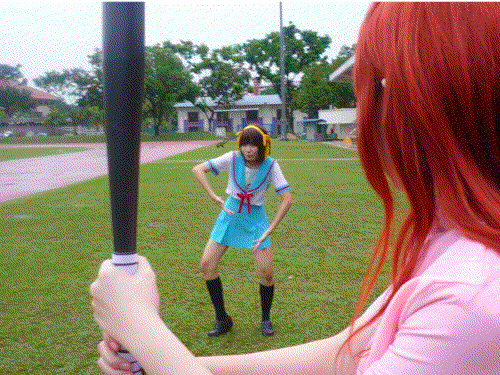 This is me jumping in joy.
Oh my god. So exciting ! I just got some inside information that Anime Festival Asia 2009 has much MORE 'celebrity' guests lined up for us !
The actual (updated) guest list is scheduled to be announced some time this week. Look forward to being pleasantly surprised my fellow durian, laksa and chicken rice consuming citizens! And our friendly South East Asia neighbors, please go park/standby at your favourite airline booking website like NOW! Block out your schedule and prepare to drop everything to indulge in this celebration of fandom and creation!
It's rumored that some Japanese seiyuu will be among the list. i have no idea who will be gracing our event but I sure am excited :D
To get you into the mood, here's a recap of the list of celebrities attending AFA 2009.

May'n
Ichirou Mizuki
Shoko Nakagawa
Yoshiki Fukuyama
Omg. The voice came as a surprise *_*! Gotta love the smooth and high voice =)
Kaname
Oops…couldn't help it =X
Gotta love a bishie cosplayer who knows when to let go and don't himself too seriously =D
Danny Choo
This is the blogging phenomenon Danny Choo in his all time favourite costume. Below is a picture of him in his normal attire.
.
.
.
.

.
.
.

.
.
.

.
.
.
Eh sorry…Salah. Wrong person.
THIS is the real Danny Choo .

Feeling hyped up alreadyyyyy??? :D:D Check out AFA09's official website here!