WWCPJ Country Spotlight: Peru !!!
Sorry for the way guys, Worldwide Cosplayer Photo Journey's 4th participant(Rita-Chan) country entry is finally up! Intensive entry up ahead!
Peru
(pronounced
/pəˈruː/
(
listen
) officially the
Republic of Peru
), is a country in western South America. It is bordered on the north by Ecuador and Colombia, on the east by Brazil, on the southeast by Bolivia, on the south by Chile, and on the west by the Pacific Ocean. It is a multiethnic country formed by the combination of different groups over five centuries.
Watch this documentary series (5 part) to explore Peru from the inside out with the 2001 -2006 president of Peru; Alejandro Toledo!
In general, the climate on the coast is subtropical with very little rainfall. The Andes mountains observe a cool-to-cold climate with rainy summers and very dry winters (Köppen climate classification). The eastern lowlands present an Equatorial climate with hot weather and rain distributed all year long. Almost 60% of the country's area is located within this region.
Lake Titicaca, the highest commercially navigable lake in the world!
and tubers, which had been tossed aside for European products since Colonial times, have seen a resurgence in popularity in recent decades with a revival of interest in native Peruvian food crops and culinary techniques.
Because of the variety of climates within Peru, a wide range of plants and animals are available for cooking. Peruvian cuisine has recently received acclaim due to its diversity of ingredients and techniques.
I find the Spanish conquerors part pretty frustrating though, no offence to any Spanish out there >w<
Probably the most famous architectural icon of Peru and the Incas, the grand and mysterious Machu Picchu.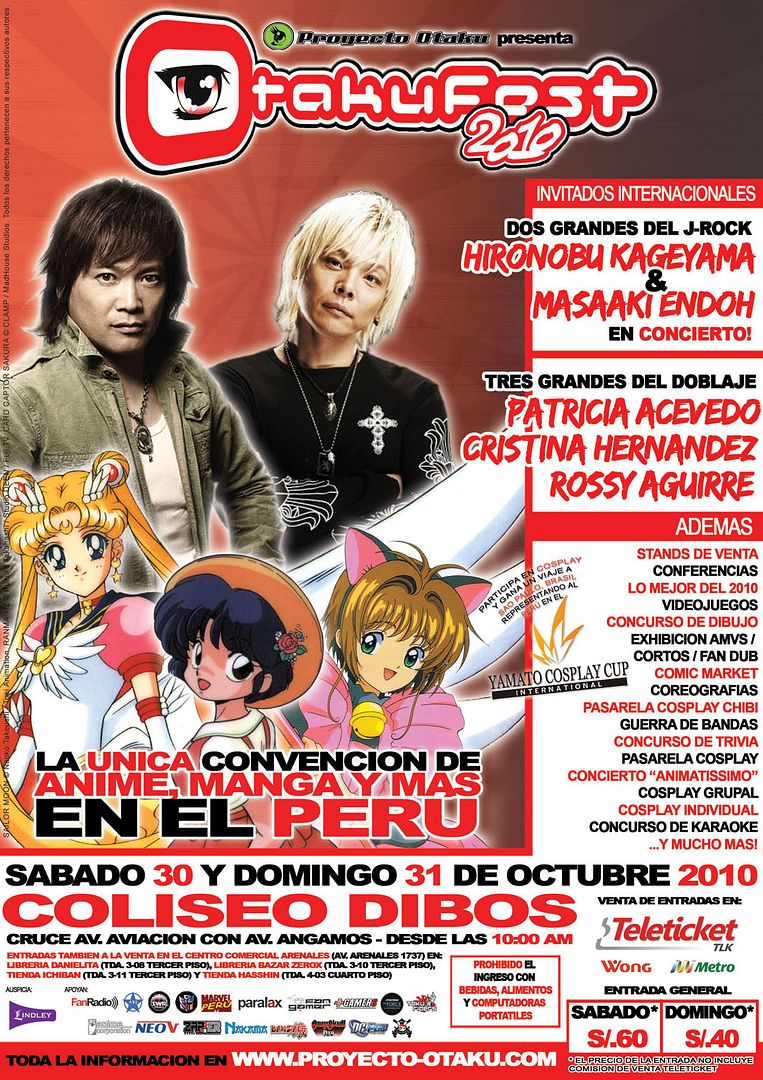 Otakufest is one of the biggest convention in Peru and it first started in 2008. OtakuFest boost the usual Cosplay Competitions, Anime Karaokes Competition, Panels , Fan Merchandise and more! Seems like every year, they will invite a few big ass guest to join them. Last year they had Hironobu Kageyama and Masaaki Endou from JAM Project rocked them up!









==================================================================================================
But I'm glad WWCPJ has opened my eyes up to the South Americas and see the beauty of the many Countries within it. One day, I wish i would be able to travel to Machu Picchu, experience the grandness of the space and hear the echoes of the wind. Something tells me I'll be just as dumbstruck as Anthony Bourdain when I get there.
The Spanish conquistador portion of the history makes my heart boils and freeze at the same time. But I guess that's how histories are made, with blood and terror. Histories never fail to remind me to be thankful for our peaceful times and remember that we all have a part to play in building our world.
I hope you guys enjoyed reading and learning about Peru just as much as I have! Watch the travel videos I linked, they are darn interesting *_*! Please leave me a comment and let me know if you enjoyed this entry ^_^
http://www.youtube.com/user/otakufest